Gas Lanterns & Gas Lights
Hotels in California, Resorts in Mexico, Restaurants in New York and beautiful homes throughout the USA and Canada are adorned with gas lanterns designed by Sheryl Stringer.  Contemporary, Traditional, Tuscan or whatever your style – let us design a lantern just for you.  Lanterns can be natural gas, propane or electric.  Any lantern can be wall mounted, ceiling mounted or post mounted.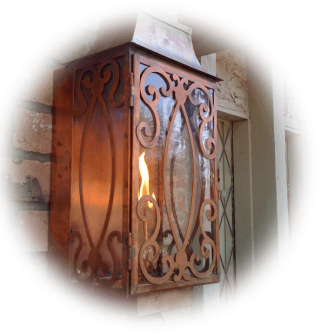 These are not your ordinary gas lanterns!  Sheryl Stringer's creative lantern designs take gas lighting to a new level.  Historic renovations, High Rise Condominums, Hotels, Restaurants and award winning homes have all used Sheryl's design services to create something uniquely their own.  She specializes in helping clients choose the specific lantern that compliments your style and preferences.  All lanterns can be made in electric as well as natural gas or propane.   Lanterns can be customized to fit almost any situation.  From traditional to contemporary, Sheryl's has a design that will fit your project.
Sheryl and her team provided design consultation, design detailing and the manufacture of 7 different styles of gas lanterns for our "old world" residence in Northern California. Never have I been so impressed with the quality and the information provided by a provider. Sheryl and her team were very responsive, very helpful and generally there whenever we needed her. The product shipped last month and we received it in good time, and opened up the boxes to see a wonderful surprise – beautfiul looking lanterns, absolutely beautiful lanterns. My client was extremely happy and the completed product will carry the theme that much further. Thanks!
I began working with Sheryl Stringer of Gas Lanterns back in 2009 when I was representing my million dollar client to list his home for sale. One could tell immediately the high quality and workmanship that had gone into the lanterns. We selected, Sheryl had them mounted, they looked stunning, they worked brilliantly AND the home sold! Curb appeal is so important when selling a home, Sheryl's lanterns certainly added that appeal!
We have hired Sheryl do do multiple jobs for us at Bill Ingram Architect over the years, and the reason why is because of her attention to detail. Her lanterns have the look and feel of an older lantern, the scale and proportions are right and the craftsmanship is always on point. She is always friendly and willing to work with us on any project we have, as well as any changes that might come up. I would highly recommend her if you need any type of lantern, no matter the style!
View our Lighting Portfolio