How to Light a Gas Lantern
Be sure to have the gas turned off before you strike a match or light the lighter.
1.  Open the lantern door.
2.  Using flame from match or lighter, hold flame over tip of burner.
3.  While holding flame over tip of burner, turn gas valve counter-clockwise.
4.  Adjust flame by turning valve to desired position.  Bottom of flame should not leave top fo burner tip for optimum appearance and wind resistance.
For Your Safety | Do NOT store or use gasoline or any other flammable vapors or liquids in the vicinity of this or any other appliance.
If you smell gas:
1.  Shut off gas to the appliance
2.  Open the windows
3.  Don't touch electrical switches
4.  Extinguish any open flames
5.  Immediately call your gas supplier.
Step by Step Installation of Plumbers Installing a Gas Lantern
1.  Backside of Lantern showing hollow wall box with flex tubing and nut attachment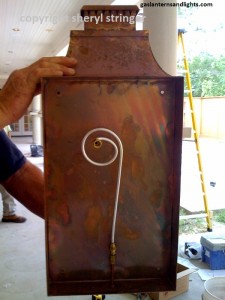 2.  Wall is ready with bolts installed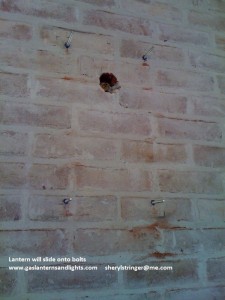 3  Plumber and helper attaching lantern to wall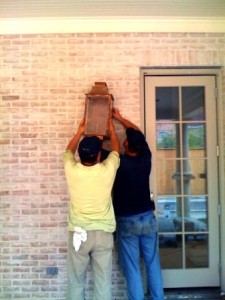 4.  Installation complete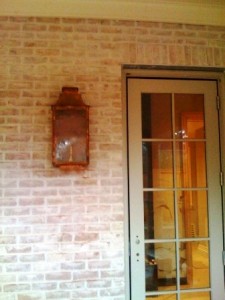 How to Replace Glass in Lantern
Be very careful handling the glass.  It is all cut by hand and has very sharp edges.  I highly recommend wearing gloves.  It is always a good idea to wear glasses too when handling glass in case you drop it and it shatters. Eye goggles are better if you have them.  Remember safety first!
If you live in the Houston area a great place to get replacement glass is Lone Star Glass.  Just take a piece of your existing glass and they will cut a new piece for you while you wait. If you cannot bring an existing piece make a template from poster board and bring that in so they have an exact pattern. Price may be about $4. Restoration and Seedy glass will be a little more expensive. They have four locations in the Houston area. I use the location on Bissonet.  Their phone number is 713.661.0091. www.lonestarglass.com  Jack's Glass near The Woodlands is another excellent glass shop.  Jack's number is 281-440-5712.  Jack's has the best prices and service around.
If you live outside of the Houston area a good reliable glass shop should be able to help you.  If not contact me and I can ship you some glass.  The shipping does add to the price of the glass as it is very heavy.  If you are having repeated issues with glass breaking you may need to upgrade to tempered glass.  Glass can break for a variety of reasons.  Sometimes it is in an area where the rain is hitting it too hard.  Sometimes glass just breaks from expanding and contracting too much and you may need to reduce the size of your flame. There is no warranty on glass.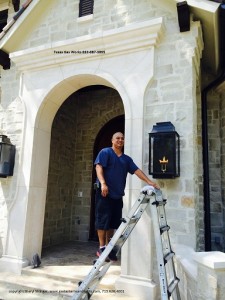 Stephen Delgado with Texas Gas Works offers glass replacement services.  832-887-3895
Cleaning
Cleaning | You will need to clean the glass on your lantern as dirt, pollen and other environmental factors will accumulate on the glass.  Simply turn off your lantern and allow it to cool.  Clean the glass with a glass cleaner.
You will periodically need to clean your burner stem.   If the flame appears to have lost it's shape or does not burn correctly, you may have sulfur that has built up on the tip or other dirt or bugs.  To clean your burner tip, open the door, turn off the valve and allow the lantern to cool.  Place a razor blade or dental floss inside the slit at the tip of the burner and rub back and forth.
Propane Note | If you have a propane lantern the burner intake holes will occasionally need to be cleaned.  The air intake holes are located on the side of the burner stem near the bottom.  Use a pipe cleaner by pushing it through the air intake holes.  A shot of compressed air can also be used to dislodge any debris that may impede air flow.  Clogged air intake holes may cause your propane burner to burn improperly causing soot to form on the glass.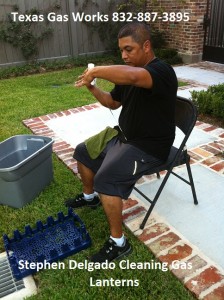 Above Stephen Delgado offers maintenance and cleaning services for gas lanterns.  He can make your lanterns look brand new!
Making an Installation Template
Professional Installer Stephen Delgado of Texas Gas Works
Contact: Steven Delgado | 832-887-3895 | www.texasgasworks.com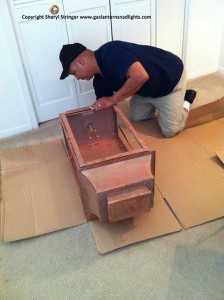 1. Steven Delgado makes a template to install lantern.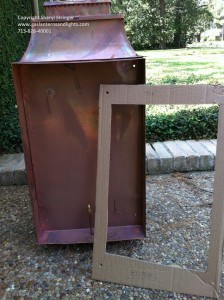 2. Template created by Stephen Delgado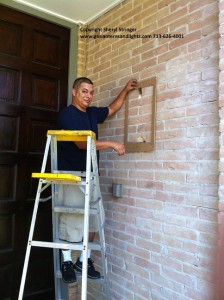 3.  Stephen uses the template and marks where to drill the holes for the bolts.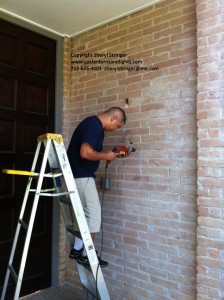 4.  Stephen install bolts into the wall.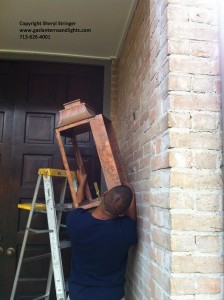 5.  Stephen attaches the lantern to the bolts in the wall.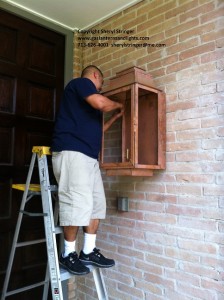 6.  Stephen installs brass caps onto bolts.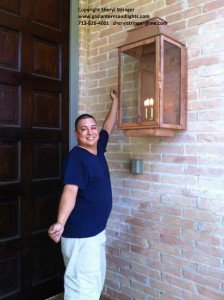 7.  Installation a success!
Gas Light Connections
This page show photos of various lanterns before they are mounted on the wall.  The wall boxes and brackets vary depending on the lantern.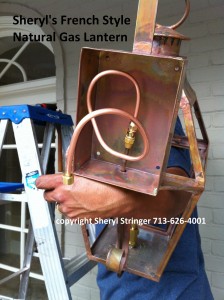 1.  Above photo Stephen Delgado  installing  a French Style Gas Lantern.  The copper wall box on the backside of the lantern is shown with 1/4 inch copper flex tubing to make the connection to the wall.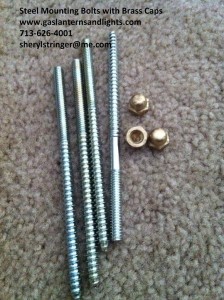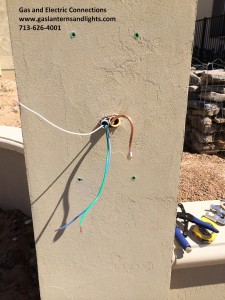 2.  Bolts will go into holes on wall.  Photo shows the electric and gas connections.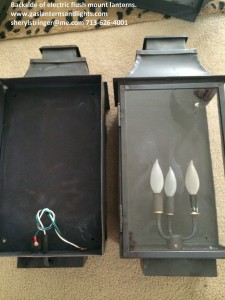 3.  Electric Flush Mount Lantern.  Wires in bottom of hollow wall box.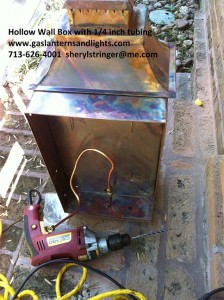 4.  Lantern with hollow wall box shown with flare nut to connect to wall.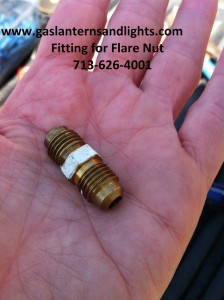 5.  Fitting for flare nut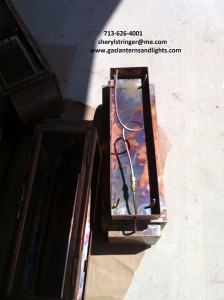 6.  Narrow San Marcos Lantern Wall Box Ready to Mount on Wall
7. Above:  Steel Ceiling Mount Box from a Yoke Mount Lantern with Electronic Ignition
Delivery
It takes approximately 6-12 weeks to receive your lanterns once the order has been placed.
Boxes are shrink wrapped and strapped to pallets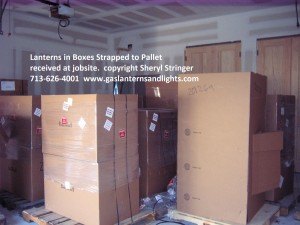 Lanterns are packed in lots of foam to protect them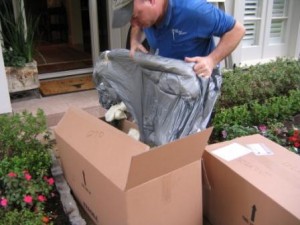 If you order handmade copper gas lanterns we will ship them by a freight carrier. They will arrive in large boxes on pallets.
Here are some tips for receiving Freight Deliveries.
Count the pieces received against the driver's delivery receipt. If over or short, note it on both your copy and the freight company copy of the delivery receipt.  Inspect the boxes for obvious damage at the time of delivery.
Identify or describe the missing/damaged item(s).
Before you sign the bill – write "May have concealed damage." If you do not write this on the bill, you are responsible for any damage not noted at time of delivery.
If there is visible damage of the box, you need to open the box and inspect further before signing the delivery receipt. If you suspect internal damage, open immediately!
If the driver or agent does not want to allow this, sign the bill "received subject to further inspection". Conduct this further inspection at once and if concealed damage is discovered, it must be reported to the carrier within 15 days.
Have driver sign also noting any shortage or damage.
Notify us as soon as possible regarding any damage/shortage so that we may assist you with investigating and/or filing a claim.  Keep any damaged goods and their packaging materials for later inspection.  Even if no damaged is suspected, open the carton within 24 hours and make a thorough inspection.
Do not let the boxes get wet as the popcorn used for packing is made of cornstarch and will melt onto the light.   It is difficult to remove once it has melted.
Save the packing materials and boxes in case you need to return the lanterns.
Warranty
Outdoor Lighting Limited Lifetime Warranty
All Lanterns come with a limited lifetime warranty against defects in copper workmanship of materials. Damage caused by misuse, abuse and acts of God or nature are excluded. During the warranty period,we will repair or replace, as we determine, any lantern or part that is defective as described in this warranty statement. All lantern installations must be made by a licensed plumber and must meet all local building codes. If equipped with an electronic ignition system or designed to operate as an electric light fixture, the lantern's electrical connections must be installed by a licensed electrician. This warranty covers both parts and labor but customer is responsible for shipping costs to the factory. Warranty goes into effect at the time the end user purchases a lantern from a dealer or distributor.
The copper portions of the lantern are warranted against defects in workmanship or materials for the life of the unit. The steel portions of the lantern body are warranted against defects in workmanship or materials for one year from date of purchase.
We will replace glass broken during original shipment by normal means. Normal shipment is by common carrier, strapped down to a pallet. Customer may request other methods of shipment, such as, UPS, FedEx. Glass broken during shipping by means other than normal transportation is not covered.
Glass can break from heat and this is not covered by the warranty.
It is natural for copper to change color as it ages. Environmental influences determine the speed and nature of these color changes and they are neither predictable nor warranted in any manner.  Finishes are a natural patina and are not warranted.
All mechanical and electrical components carry one-year warranty against defects in workmanship or materials.
Thank you for your outwardly cooperative spirit and assistance. It is rare to find in most of my vendor dealings someone is so overtly helpful. We sincerely appreciate your effort to assist us in being educated on the best way to get success from your product.      Sincerely, Mike Power, Corporate Electric
If you are located in the Houston area I highly recommend Stephen Delgado for installation and service of gas lanterns.   He can be reached at 832-887-3895 Click here for more information:   Texas Gas Works Website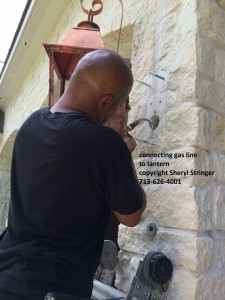 Shown above:  Stephen Delgado installing gas lantern in Houston.
Installation Procedures for Gas Lanterns
Building codes require that gas lights are installed by a licensed plumber in order to conform to your local codes. 1/4 inch copper tubing is all that is needed to burn properly. However, some local codes require 1/2 inch black pipe. Be sure to consult with a licensed plumber so that you will conform with your specific building codes.
All lanterns are plumbed to accept 1/4″ OD copper tubing with flare fitting.  All natural gas and propane lanterns include a shut-off valve located at the base of the burner stem.
For your safety do not store or use gasoline or any other flamable vapors and liquids in the vicinity of the gas appliances. If you smell gas, shut off the gas to the appliance, open windows, don't touch electrical switches. Extinguish any open flames. Immediately call your gas supplier.
Note | The minimum clearance from combustible construction is 12 inches from the top and 6 inches from the side.
Warning | Never use an open flame to check for leaks.
Threaded parts and screws conform to CSA Standards for Unified Screw Threads B1.1 and Unified Inch Screw Threads ANSI/ASME B1.1.
Installation shall be in accordance with CAN1-B149.1, Installation Code Natural Gas Burning Appliances and Equipment.
1. Using mounting hole template (or lantern itself) mark and install 1/4″ x 4″(min) hanger bolts (supplied). If mounting on brick or masonry, the appropriate anchor will need to be used (not supplied with lantern).
2. Reduce gas supply line from exterior wall to 1/4″ copper tubing using approved fittings only.
3. Make a copper coil using 1/4″ O.D. copper tubing to allow hook-up of gas supply line to the 1/4″ flare (or 3/8″) fitting located in the wall mounting box of the lantern. All hook-ups must be made
within the width, depth and height of the lantern mounting box.
4. Check for any leaks using a soap solution. If bubbles appear, shut off main gas line and tighten all fittings, then recheck.
5. If you lantern has a brown or black patina finish be sure that your installer wears plastic gloves to prevent getting fingerprints in the finish. It is a natural patina and takes a few months to totally harden. Oil from finger tips can cause fingerprints in the finish. However, the fingerprints will fade with time.