Custom Gas Lanterns
Gas Lantern Finishes, Glass Options, Poles for Gas Lanterns
Glass Options for Gas Lanterns
Plain glass is standard.  Bubble/Seedy Glass and Restoration/Antique Glass are available for an additional charge.
Restoration looks like antique glass with waves in it.  Restoration is shown in the first photo.  It is very subtle and difficult to capture in a photograph.  The second photo shows bubble glass.  Both create a beautiful look for the lanterns.  For larger photos of the glass options click here for my Houzz portfolio Glass Options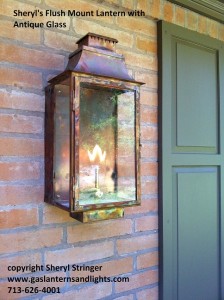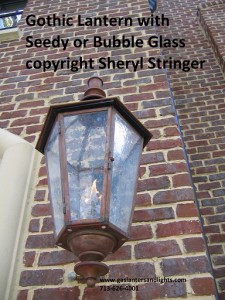 Antique Glass                                              Seedy Glass
Bulb Options for Electric Lanterns
Any lantern can be electric.  There are two bulb base options.  An Edison Bulb Base or a Candelabra Bulb Base.
1.  Example of an Edison Base in an Electric Lantern.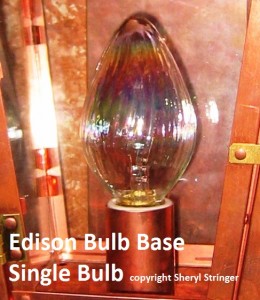 2. Three Bulb  Candelabra Bulb Base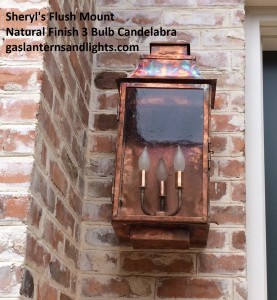 3.  Two Bulb Candelabra Base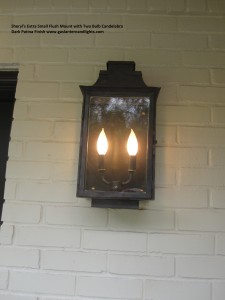 Gas Lamps on Poles
Column Mount Gas Lanterns
Yokes for Gas Lanterns Hanging from Ceilings
Windguards for Gas Lanterns
Patented Windguards are an easy solution for lanterns that are located in windy areas.  Our patented windguard prevents lanterns from blowing out. Pictured below are Sheryl's gas lanterns in Historic Galveston with Patented Winguards.
.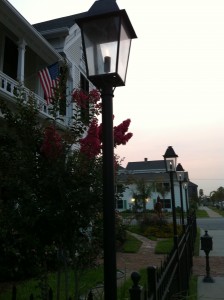 Gas Lanterns for Restaurants & Hotels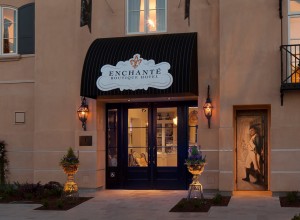 Here is a list of a few of our restaurants, resorts and commercial clients.
Enchante Boutique Hotel, Los Altos, CA
Jing Restaurant, Colorado
Sopapillas, Frankin, TN
Case Del Rector, Mexico
Lure Fish House, Santa Barbara, CA
Fogo De Chao, King of Prussia, PA
The Landmark of Cozumel
Limelight Lodge, Aspen, CO
Carnegie Towers, Rhode Island
City Tavern, Chicago
Raven & Rose, Portland, Oregon
Antun's, Queens Village, NY
Del Frisco's Grille, Burlington, MA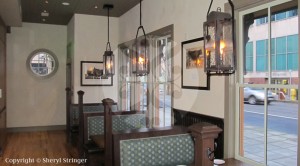 Copper Gas Lanterns
Why is copper the best option for gas lanterns? Copper is a flexible metal making it easy to create beautiful designs. Copper can easily expand and contract with high temperatures.  Copper is maintenance free. It can endure all weather conditions and lasts forever.  Consider the Statue of Liberty. The natural oxidation process creates a patina which provides a natural barrier to the elements and creates a protective coating. While other metals will deteriorate, copper will stabilize as it ages.  If you are in a salty environment like the Statue of Liberty, your lanterns may develop a green patina.  Most of the time the protective coating that copper naturally develops will be a dark brown.  Metal will rust without a protective coating, aluminum will deteriorate through electrolytic corrosion, brass will pit unless maintained through periodic polishing and stainless steel will stain. Plastic components will degrade due to exposure to UV light. All you need to do with your Copper Lanterns is just dust them from time to time and clean the glass.
We offer a natural patina finish for customers who desire a darker lantern by dipping them in a special wash.  However, since the patina is natural and constantly changes with exposure to the weather, we cannot guarantee our finishes.  They are natural and depend on humidity and other factors as to how they will look.  Florida is an especially corrosive environment.  We recommend everything installed in Florida to be made of copper and without a patina finish.  Letting the copper age naturally is the best route in Florida.
Automatic Shut Off Valve for Gas Lanterns
The components are shown above that make up an Automatic Shut Off Valve.  If the flame goes out the shut off valve will automatically turn off the gas going to the burner stem.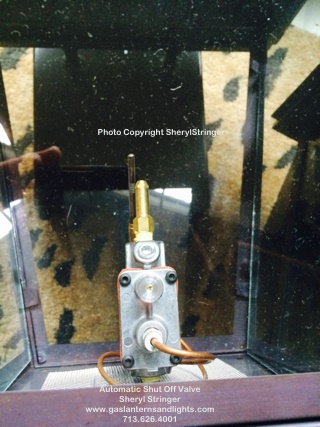 Three Finish Options :
Black Gas Lanterns
Dark Patina Gas Lanterns (not recommended for Florida)
Copper Gas Lanterns
Considered a "living" surface, copper tarnishes as it oxidizes and reacts to the substances that cross it. For many, that's part of its appeal and a lot of homeowners appreciate the character it adds. Copper can form verdigris depending on the environment. For clients who do not want a natural finish we offer a smooth black finish that will not patina.
1.  Natural Copper Finish:  Copper is a beautiful metal and will age gracefully over time.  Depending on your environment it will turn either brown or may have some verdigris.
2.  Natural Dark Patina Finish:  Patina is not a color.  Black is an actual color.  Patina is dark but it is not black.   It has variations in the color whereas black is a smooth solid color.  The best description of a dark patina finish is vintage or accelerated aging.  The patina is a weathered look.  The lanterns are dipped in a chemical that causes the lanterns to react and form a natural coating. The finish is also called a living finish since it is constantly changing and ageing.   Finishes are a natural process so a lot of factors determine the exact shade. The color is similar to a zinc color.  It is a brown, gray, black color that is best described as dark.  Weather conditions, temperatures, humidity etc will affect the color of the finish. Be sure to wear gloves when handling lanterns that have a finish on them to prevent causing fingerprints. We cannot warranty the finish since it is natural.
3. Smooth Black Finish:   This finish will be smooth without any variations.  It is a color….black.
Please note that Florida and the Carribean are especially corrosive environments.  We recommend all lanterns in these environments be completely copper and that they have a natural finish.  It is best in a highly corrosive environment like Florida to let the copper age naturally and form a natural patina.  We can paint the lanterns with heat resistant paint but they will have to be painted again in time.
The lanterns below show a dark finish and a natural finish.  We cannot guarantee the exact shade of the finish since it is natural.  Usually the top of the lantern becomes darker than the bottom because of the heat rising to the top.  The lanterns are gorgeous no matter what shade or finish!  Copper is a beautiful metal.
All metals, not just copper, react to the environment.  It is unrealistic to think that your lantern will always look like it did the day you opened the box.  It is exposed to the elements, dirt, wind, rain, pollen etc.  The glass will get dirty and bugs may build nests.  Periodic cleaning is recommended.  Stephen Delgado of Texas Gas Works offers periodic cleaning services for Houston area clients. For cleaning contracts call Stephen at 866-785-1345.